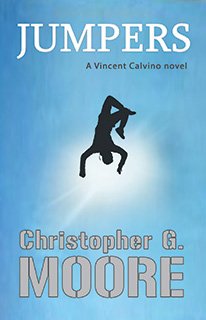 ISBN 978-616-7503-34-9
Paperback 5" - 7 3/4"
2016, 362 pages

Available in eBook and print formats:
Print copy
($13.95)
In B-format Print on demand (POD)

POD

Amazon

(worldwide)
Calvino investigates the death of a friend, a Canadian painter. The medical examiner finds the young man has ingested an exit drug, and the police verdict of suicide seems justified. But in Bangkok appearances have a habit of deceiving. Sometimes jumpers are given a leg up in their leap to the next life. Fingering the helper can be a risky business, and for Calvino this promises to be one of those times.

Praise

"Jumpers is in large part a meditation on life and death and the tenuousness of affection among family and friends… In its refinement and pensiveness, and with its masterful fly-on-the-wall dialogue, the novel owes more to Joseph Conrad than the likes of Mickey Spillane or Dashiell Hammett… [I]n place of the caustic language and car-chase haste so often found in crime fiction, there is nobility to the writing that makes this book a loftier pleasure to read, a dignity arising from contemplation and lingering appreciative gazes at the aesthetics of each setting… [T]here's a great deal of heart and heartfelt writing, and confidence that the human spirit will always prevail."
—Paul Dorsey, The Nation (Thailand)

"Moore excels once again at deciphering the culture clash we call Bangkok... Jumpers takes you on a personal and cultural journey. It leaves you with as many questions as answers but that is quite alright with me."
—Kevin Cummings, CulturMag
Copyright © 2003-2020 Heaven Lake Press, All Rights Reserved.