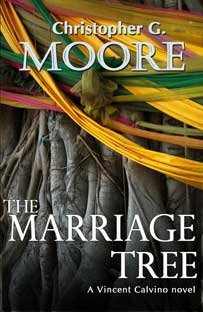 ISBN 978-616-7503-23-3
Paperback 5" - 7 3/4"
2014, 429 pages

Available in eBook and print formats:
e-Book ($7.95)
Print copy
($7.95-$13.95)
In B-format paperback and Print on demand (POD)

| | |
| --- | --- |
| | B-format Paperback direct from the publisher |

POD

Shipping address in Thailand

International shipping outside Thailand
It's okay for Thais to believe in ghosts—it's their birthright. But why is Vincent Calvino seeing ghosts, and why are they so angry? Calvino is haunted by a series of deaths in Rangoon and Bangkok, when he stumbles onto a new murder case—but is it a new case, or an old one returned from the dead? A murder investigation leads Calvino inside an underworld network smuggling Rohingya out of illegal camps and detention centers. Calvino looks for the killer in the mystical Thai world of sword and marriage trees.

Praise

"[The Marriage Tree] will keep the reader up at night, though, as the action is fast-paced and full of enough twists to foment insomnia. For readers who loved Missing in Rangoon, this follow-on book provides something of a final resolution."
—wowais.com

"The plight of the Rohingya refugees has been documented many times, but never dramatised like this.... [W]hen a novelist brings his powers of description and sense of empathy to bear on such a subject, the wholehearted tragedy of these crimes against humanity hits home in a powerful way. The opening is riveting ... The plotting is taut and the pacing sharp."
—Jim Algie, The Nation

"The Marriage Tree is a top tier crime novel set in a top tier city, Bangkok, to be enjoyed by crime fiction readers everywhere."
—Kevin Cummings, Chiang Mai City News

"For those who have 'met' Vinny before, you will know what to expect - a fast, racy and very believable plot with excellent dialogue and several twists in the tail and set in the Bangkok we all know, with many recognizable landmarks."
—Lang Reid, Pattaya Mail
Copyright © 2003-2020 Heaven Lake Press, All Rights Reserved.